Ham radios have long been the hobby of many people ranging from small units that they tinker around with on the weekends, to full desk models that they use each and every day for one reason or another. With a ham radio, you can talk to someone on the other side of town or around the world, all without needing a cell phone or the internet. They can provide hours of social and educational fun or they could be utilized in a time of emergency, possibly saving your or someone else's life.
In the latter situation, ham radios and their operators can become community lifelines in dire situations, often helping one another, as well as first responders, to work through the details of an emergency. There are even volunteer based Amateur Radio Emergency Services created to be of help in just such an event. Unlike other media outlets, you will get real time information from a ham radio that you simply cannot get elsewhere. Ham radio operators can be broadcasting from their homes, cars or from a handheld device that will provide you with breaking information quickly and accurately.
---
Best Handheld Radio Reviews
In the event that you are seeking out your own hand held ham radio, we have put this list together, featuring the top five handheld ham radios for your convenience. By listing the features and attributes of each, we hope that you are better able to find the perfect unit for your own personal use.
---
BaoFeng UV5RA Two-Way Dual-Band Ham Radio Review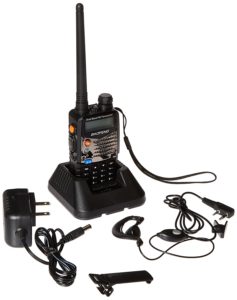 First up is the BaoFeng UV5RA Two-Way Dual-Band Ham Radio. This powerful little unit features dual PTT key, A/B band independent operation and incorporates 105 codes "DOC" and 50 privacy codes that are CTCSS programmable.
The BaoFeng has both scanning and direct input as well as an emergency alarm, an LED flashlight and a built in key lock for your added protection. The background light can be tricolor, depending on your selection, with a capability of 0-9 grades of selectable VOX.
Providing 4 watts of frequency, this unit is compact and economical and fits into its own drop-in charging tray. Other features include a SMA-female antenna, a BL-5 Li-ion batter, a belt clip, a wrist strap, an AC adapter and requires a PCO3 FTDI programming cable for PC programming.
---
BaoFeng BF-F8HP 8-Watt Dual Band Two-Way Radio Review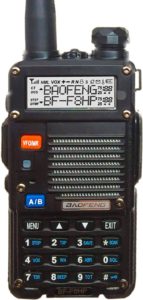 The next handheld radio on our list is the BaoFeng BF-F8HP 8-Watt Dual Band Two-Way Radio. With high, medium and low power settings and a frequency range of 65-108 MHz, this unit is only for commercial FM radio reception.
The affordability of this high power mobile ham radio makes this a unit you can take with you virtually anywhere you happen to be going. In addition to the three power levels, the BaoFeng also features a new 2000 mAh batter, an in depth user's guide, concierge support and a high gain V-85 antenna while still retaining backwards compatibility with all previous accessories for other units.
The battery pack is 30% larger than other models, giving you a long lasting radio experience that averages about 18 hours of use at high power, and 24 hours of use at medium power. This lengthened battery life gives you enough peace of mind to be able to use the built in flashlight or the built in FM radio without worrying that you will not be able to communicate throughout the day without recharging.
---
BaoFeng UV-5R Dual Band Two Way Ham Radio Review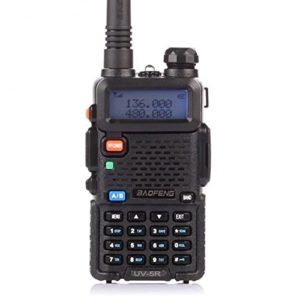 Next up is the BaoFeng UV-5R Dual Band Two Way Ham Radio. This unit has both low and high settings, for 1 watt to 4 watts and has a frequency range of 65-108 MHz VHF and 136-174 MHz UHF. Both channel names and the boot display are programmable by making use of the PCO3 FTDI programming cable, hooked to your PC or laptop. With a 1500mAh battery, you have a wide broadband at 25 MHz and a narrowband of 12.5 kHz, selectable.
The auto keypad lock means that you will not accidentally switch channels and you can also have a dual display as well as a dual standby. The special VHF band includes the regular broadcast band and you also get up to 128 memory slots to store channels into.
Additional features that you might find handy are the battery saver function, the DCS/CTCSS encode, key lock and built in flashlight. In addition to these features that are built in to the unit, you also get a BL-5 Li-ion battery, a belt clip, a wrist strap, an AC adapter and a drop in charging tray for your convenience. All these things together make it a great unit at an affordable price that is convenient to carry with you everywhere you go.
---
Yaesu Ft-60R Dual Band Handheld Amateur Radio Receiver Review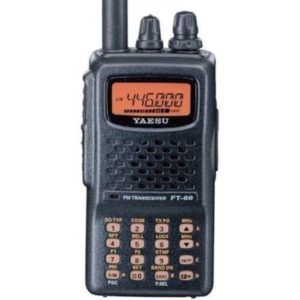 The Yaesu Ft-60R Dual Band Handheld Amateur Radio Receiver is the next item on our list. The dual band VHF/UHF gives you both receiving as well as broadcasting capabilities in this compact, affordable handheld unit. The locking mode prevents accidental changes to frequency, should the buttons get accidentally pushed, and you have features such as CTCSS/DCS, DTMF, Alphanumeric display, a lighted keypad and different scanning modes.
Up to one thousand channels can be stored into memory and you can have immense peace of mind thanks to the NOAA weather alerts and the emergency channels that can be received through 800-900Mhz. RF power outputs include high, medium and low and the Yaesu includes a 1400mA battery, a charger, an antenna and a belt clip, all for your convenience. You cannot, however, use this unit to listen to FM broadcast radio.
---
Kenwood Handheld Amateur Ham Radio Review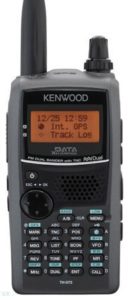 Finally, we have the Kenwood Handheld Amateur Ham Radio. This radio features the Kenwood Sky Command System II, which is compatible with ARRL Travel Plus for repeaters. APRS firmware is equipped and standard on this radio, as is the Kenwood MCP-4A PC programming software.
Enhanced operating ease and visibility and IP54 weatherproofing make this an excellent choice that will stand up to the rigors of every day outdoor use. A high capacity battery, which is included, offers you longer operating hours and there is a built in high performance GPS receiver that allows you to find your way with ease, no matter where you need to go.
The Mini-B USB port and USB PC programming cable, which is included, means that you can program your device with any compatible PC or laptop. In addition to all these great features, there are also 1000 memory channels on which to save as many different channels as you need.
The Kenwood, while definitely a smaller, more compact unit, packs in a lot of features, including the GPS, making it incredibly handy to use. The portability assures that you will not be tethered to a desk indoors and the ruggedness makes this unit one that will be with you for a long time to come.
---
My Vote for Best Handheld Ham Radio
Of these five portable ham radios that we have gone over here today, my top pick for personal favorite is going to be the BaoFeng UV5RA Two Way Dual Band Ham Radio.
For a small ham radio, it definitely has all the features of the higher priced models in an affordable package. The emergency alarm, the built in LED flashlight and the built in key lock are all options that not every ham radio has, however, and sweetens the deal with this particular unit.
It is also capable of both CTCSS and DCS scanning with direct input and has dual PTT keys and independent operation. However, the main selling feature of this unit is its drop in charger tray as well as an AC power source that gives you peace of mind that you will not be left with a dead unit when you actually need it.